To protect client's market, RC, UR, RM series products can be encrypted by UR-X-Client software and special wire REC-3.
1. RC is for PIN code, relay mold and output time setting. PIN code should be 16-digit; the maximum output time of 65 seconds can be reset.
---
Open UR-X-Client software, and use it as follow:

---
Use the correct connectors to connect RC, UR, RM devices. Make sure the negative (-) be connected to the square pad hole on the PCB when UR connects with RM to
proceed the encryption, as shown below.(Note: Remove line CR2032 before RM remote control connects to the encryption line ):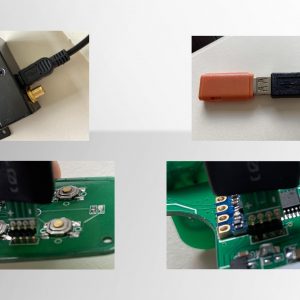 Step1:Serial Setting: Select the correct serial port number: Computer(this computer) ManageDevice  ManagerPorts, configure 9600,n,8,1 and click Open
Step2:UR-X-Client software menu column Device choose product, such as RC, enter the PIN you want to use in the PIN field, and then click the enter button. At this time, we will see the encryption success prompt in the Log. If we need to set the output format and time of the relay, we can set it in the Function column, and then click enter.
Note: If you want to restore the factory settings, you need to enter the correct PIN to set up. Please contact your local dealer for details.